July 6, 2017
AirVape XS2 – Affordable Luxury Vaporizer by Apollo
Apollo AirVape a relatively new company in the world of portable vaporizers that has only been in the industry for a few short years but is making big waves. The AirVape brand of portable vaporizers has created an image that all companies strive for. The AirVape XS2 is a potential new portable dry herb vaporizer that may be released somewhere in the second half of 2017. AirVape has created an image where customers now that they get a great deal on a great product. Affordable luxury is one of the main sayings that you here when people discuss the products produced by Apollo AirVape. The AirVape XS has been a huge hit for the company and it is expected that they are working on the AirVape XS2 with new upgrades and features.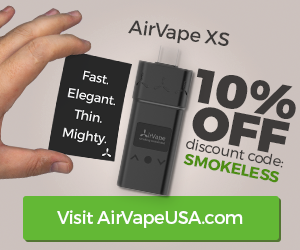 Why Buy the AirVape XS2 - Predictions

AirVape is fueled by a passionate group of vape enthusiasts that want to give people the product they deserve and a price they can afford. Portable vaporizers are a luxury item, especially if you want one that performs well and holds its value. AirVape XS is already the second version of the popular dry herb vaporizer from Apollo AirVape and was a hidden industry gem for quite a while. AirVape also created a special edition version to the popular AirVape. The AirVape XS Special edition was produced in limited quantities and comes ins a very attractive black and gold color combo with some solid accessories. The AirVape XS SE comes with a credit card sized power charger and a Xs shell that is said to be smell proof and water resistant. Among the many other perks and cool accessories that come with the special edition pack is a AirVape VIP card that gives the customer 3 free repairs in case anything goes wrong far down the line and also discounts on some of the industries top vaporizer super stores. The AirVape XS 2 is expected to be another premium device that is backed by a solid company.

AirVape XS2

A few things that are missing from the AirVape XS is bluetooth connectivity, so this very well could be one of the big upgrades that will come into play with the AirVape XS2 if and when we see it come to market. Potentially the new AirVape will come in an even wider range of color options. The XS and XS SE together came in Blue, Gray, Red Gold, Rose Gold, and Black and Gold. Newly released vaporizers also have on demand heating and other cool features like heat sink features. On demand heating allows you to conserve your battery life while a heat sink keeps your draws a bit cooler than would otherwise be. We are excited to see what new features come with the AirVape XS2 and will update this page when that time comes. For now we are excited to see the highly anticipated release of the AirVape OM - you can read our initial review of the AirVape OM here.