August 27, 2019
Atomic9 Vaporizer Review After 2 Months of Usage | Hybrid Heating by Cloudious9

Atomic9 Vaporizer Review | Hybrid Heating by Cloudious9
It has been a little over 2 years since Cloudious9 released its innovative portable water filtration vaporizer. The Hydrology9 resembled that of a futuristic lightsaber lava lamp. We are happy to announce that Cloudious9 has just released a new portable vaporizer called the Atomic9 vaporizer. In this Atomic9 Vaporizer Review, I share a few positives and negatives that I have found after using the new portable vaporizer after 2 months of daily usage.
Introducing the Atomic9 Vaporizer
The Atomic9 is the 2nd vaporizer in Cloudious9's growing lineup up devices. This new compact portable vaporizer is designed with hybrid heating. It uses a mixture of conductive and convection heating to heat dry herbs. The patent-pending 'dual-layer' heating makes sure that your materials are used effectively. It is unusual for convection vaporizers to come in smaller sizes due to the size of the battery required to heat with this oven method. The Atomic9 vaporizer, however, can do this without such a large battery, which has resulted in a very cost-effective portable convection vaporizer. Along with the release of the Atomic9 Cloudious9 has also released news of the Tectonic9 Grinder.
2 Months of Usage with the Atomic9 Vaporizer
I received the Atomic 9 about 2 weeks ago and have been using it almost daily since that time. There are some positive things I would like to share about this portable vaporizer and some negative things that I would like to share as well.
Positives
First and foremost I would like to say that the value in terms of cost is one of the best I have seen. For a low price of $59 the Atomic9 works very well. The price compared to quality and performance is definitely the greatest strength of this device. It works just as good as some of the top devices which cost upwards of $300. The Atomic9 is pretty easy to clean and takes about a minute to unclog the vapor path. Using the vaporizer is very simple, you just click the only button 3 times and it will begin heating up and turn green after about 20-35 seconds in my experience. A few other positives are the quick heat-up time, the small size, and the overall quality.
Negatives
The negative criticisms I have about the Atomic9 are me being a bit nitpicking. I personally think that vaporizers should beep or vibrate when they have reached the desired heating temperature. This missing feature makes me miss 1 or 2 sessions because I turn it on and get slightly distracted and since the Atomic9 only stays on for 2 minutes at a time, by the time I remember I turned it n it cycled through and vapes my herb without me using it. Not including the components required to make this happen, I'm sure it helps to keep the costs and price as low as they are.. but this is one of my negative points I'd like to share.
Another negative point is that the kit does not come with an oven clearing tool or air path chamber cleaning poker. I have to use a safety pin or something similar each time I want to clear the herb out and unclog the air path. Again I'm sure not including this tool allows for the price to be kept at $59, but something that would be useful for sure. A final negative, in my opinion, is the pop-up herb funnel that allows you to scoop dry herb into the oven chamber. I say this is negative because it's easier to use your hands and pretend like this component does not exist. It is a neat idea, but not something I personally use.
2-month overview
After usage of 2 months with the Atomic9, I can confidently say that this device holds its own in terms of value. Dollar for dollar in comparison to other devices on the market the Atomic9 is one of the best devices you can get.
---
The Cloudious9 Mega Bundle
Looking for the ultimate portable vaporizer bundle package? Cloudious9 has a deal where you can get the Hydrology9, Atomic9, Tectonic9, and the leather carrying/protective case for the Hydrology9.
---
Below is more general information on the Atomic9 vaporizer.
Features of the Atomic9 Vape
6 Adjustable Temp Settings
Made to be effective right out of the box. The Atomic9 has six preset temperature settings in the range of 356F to 428F. This range is perfect to get quality rips that deliver an enjoyable herbal taste.
Full Cleaning
Residue build-up can get sticky! The biggest issue with most portable vaporizers is that they are a big hassle to maintain after a few weeks of use. The vapor paths start to get more narrow the oven lid doesn't close as well, and there are areas that you can't get to properly clean and restore your device to working condition. The Atomic9 has been designed to help fix this issue. All areas that typically get residue/tar build-up are accessible or detachable to give a quick clean.
Retractable Dry Herb Loader
Fumble and waste your precious herb no more! The Atomic9 boosts an easy loader that makes repacking the oven chamber quick and easy. This is a unique component similar to the built-in oven stir stick that we saw with the Hydrology9.
Rapid Vapor Cooling Chamber and Magnetic Mouthpiece
When dealing with smaller vaporizers that have the heating components very close to the mouthpiece and your lips an often downfall is that the vapor will remain too hot as it enters the user's mouth. The Atomic9 has been thoughtfully designed to cool down the vapor as it enters your mouth. Built into the magnetic lid is a cooling chamber that helps to lower the temperature while providing a rich tasting vapor.
Hybrid Dual Layer Heating Tech
It wouldn't by a device from Cloudious9 if it didn't have some sort of new innovative technological components built into it. Following in the footsteps of the Hydrology9 the Atomic9 utilizes both convection and conduction heating. This patent-pending heating method makes this a unique new portable vaporizer.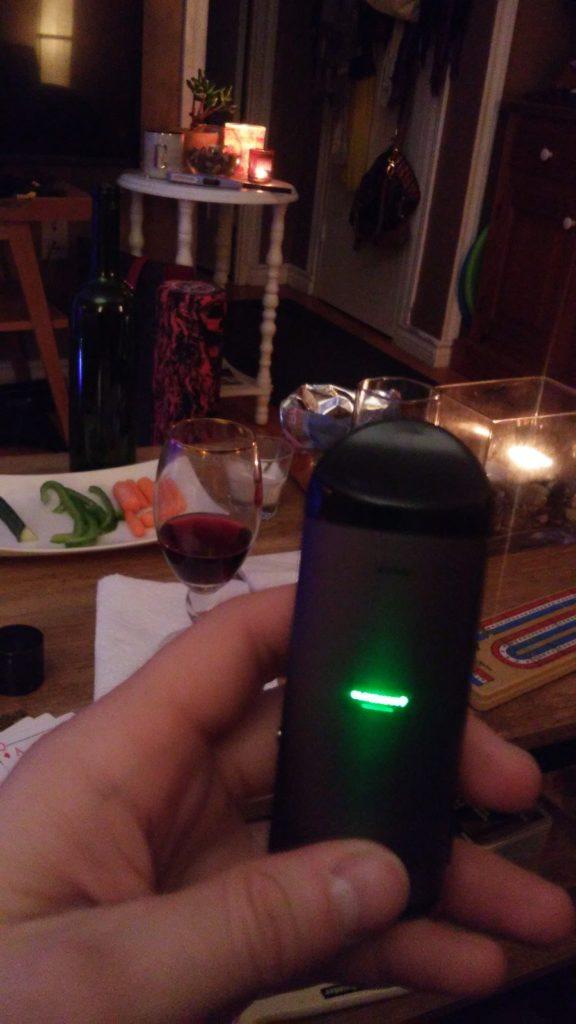 Anodized Aluminum Casing
For a very affordable budget vaporizer, the Atomic9 spared no expense with its quality of the material. The design is built to be strong and withstand some serious collisions. The shell is made of an anodized aluminum casing.
Why the Atomic9 is a great portable vaporizer
'Dual Layer' heating technology

Hybrid convection quality vapor path

Six easily adjustable temperature settings from 356 to 428

Retractable dry herb loading component

Compact sized design

Quick vapor cooling down the chamber

Simple one-button user control

Simple to clean and maintain

Heats dry herb in 30 seconds

Magnetic mouthpiece

Durable just like the Hydrology9
Visit Cloudious9 Official Site to learn more.