May 20, 2020
Best Vaporizers Rigs In 2020
Best Vaporizers Rigs In 2020
Dabbing practices have swiftly grown over the past few years which lead to the introduction of electric dab rigs that makes the age-old blowtorch method obsolete. The latest devices are more convenient and don't rely on guesswork to work at best. Here are few of these best inventions:
Focus V Carta
It is an intelligently designed rig that works by filling up the bubbler with water and pressing a single button. Yes! It's that simple. The device has four preset temperature settings to customize the vapors — the lower ones for smoother hits while the higher settings for an intense experience. If you find "four" insufficient then no worries, you can select your own preset settings by using the smartphone application.
The vapor quality of V Carta is excellent but not as much as the all-quartz setup. Further, it allows us to fit a good deal of wax at one time and provide flavorful clouds for a long time.
Features:
Water filtration

Removable batteries

Four preset temperature settings

Smartphone compatibility

USB charging
Puffco Peak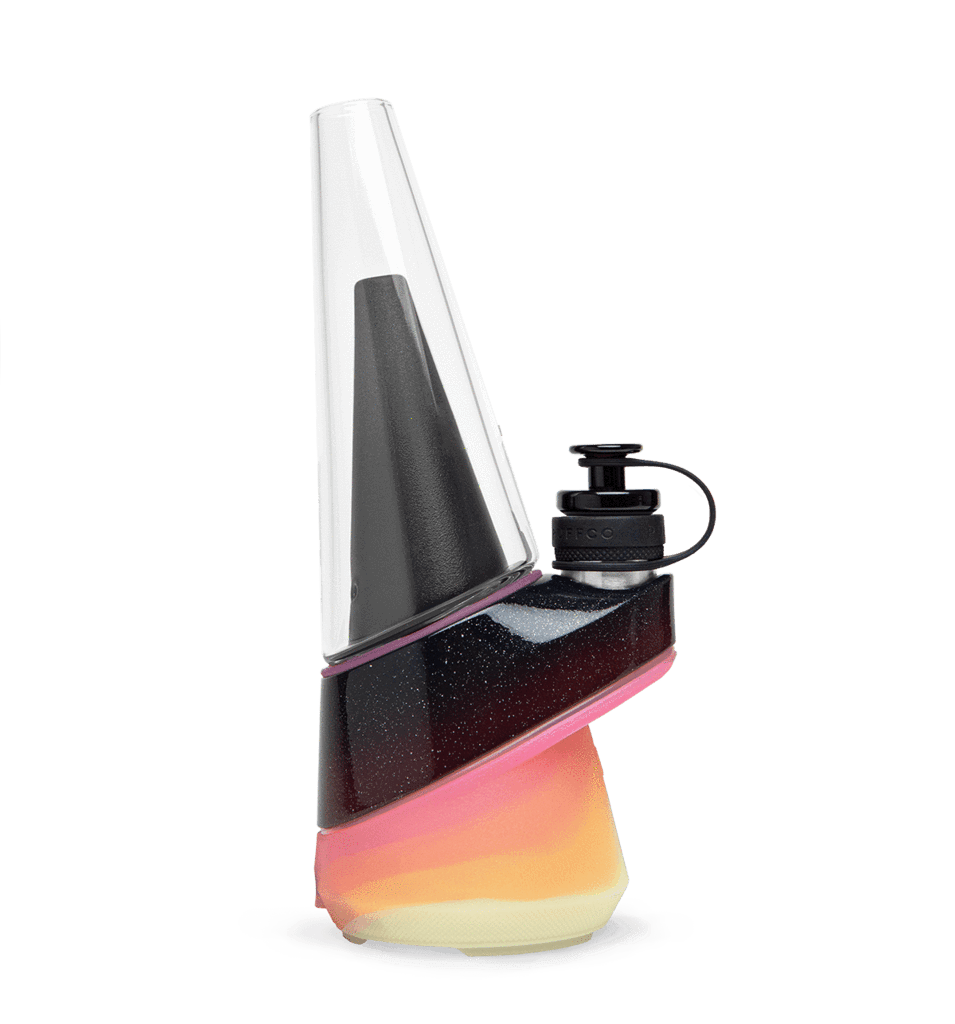 A smart rig that will live up to your highest expectations with its efficiency, portability, and performance. Puffco delivers outstanding vapor quality along with four present heat settings allowing one to alter the strength of the hits. On top of all, it is highly convenient; given the fact that only one button is utilized to control the entire package.
On the front, the device communicates with the user through four LEDs that indicate the temperature levels. A handblown glass dome sits on top where vapor diffusion and water filtration occurs.
Features:
Temperatures: 450°F, 500°F, 550°F, 600°F

Heat-up time: 20 seconds

Sesh mode function

Rechargeable

LED indicators
Kandypens Oura
Oura would never disappoint you, featuring quartz and ceramic atomizers that provide terrific vapor quality. The device offers four heat levels, having a maximum temperature of over 1000°F. It means it would give out strong and intense vapors that are sure to leave traces in your throat. Therefore, if you are a beginner, it might not be the best option for you. You can check out similar options on KING's pipe which is a shopping platform determined to deliver high-quality and affordable products.
Features:
Battery capacity: 3000mAh

Quartz Atomizer and Ceramic atomizers

Four heat settings

Fast heating technology

USB charging
Pulsar Rok
It looks distinctively different than all gadgets we've discussed here but it has a learning curve — meaning, you would need to experiment a little to understand it. The reason is its scorching temperatures but once you get used to it, Pulsar becomes pretty easy to use. It features only three preset temperature settings and is outfitted with a sesh mode for a continuous vapor experience.
Features:
Compatibility: oil and flower

Quarts and ceramic atomizer

Three present heat settings

Sesh mode

USB charging
Leaf Buddi Wuuka
A pyramid-shaped e-rig consisting of a huge battery allowing users to keep vaping endlessly. Leaf Wuuka is compatible with all three plant matters— dry herbs, wax, and e-liquids, which explains its widespread popularity in the vaping community. It gets ready within twenty to thirty seconds due to its fast heat-up technology.
Moreover, on the front, it has an LED panel that allows users to insert the desired temperature to customize the vapors. The temperature range is wide having 520°F as the highest value.
Features:
Battery: 3200mAh

Three cups: titanium, quartz, ceramic

Central conduction heating

LED control panel

USB charging
Popular pages