February 28, 2017
VaePlume Vape Pen Review – Discreet Vaporizer 2020 UPDATE
The VaePlume vape pen official site is currently not operational. We will update this page if and when it comes back online. We will share with you some similar options available for vaporizer pens that can write.
Buy for $​39 at Cloud Vapes Here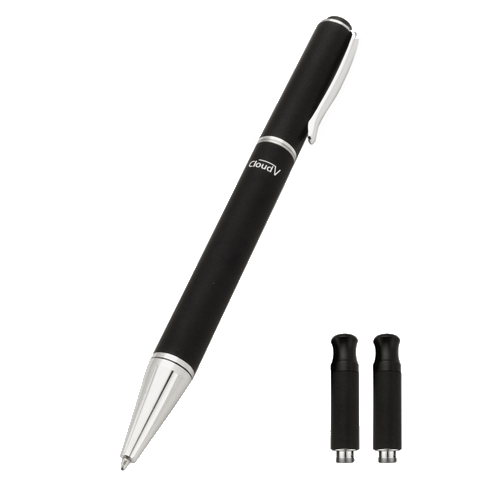 Buy for $​39 at Cloud Vapes
More Vape Pens That Can Write
Here is a post that goes over a few other portable vaporizers that are discreet and that actually write. Check them out here: Vape Pens that Write
Old post below:
For those of you who are looking to be ultra discreet with your vaping device, there is a new vape pen that resembles an actual pen that also functions as a writing pen. Here we will have a closer look at the VaePlume Vaporizer and see if this device performs well. Continue reading the VaePlume vape pen review below.
"It Writes, It Vapes, It's Discreet and Professional" 😉
As you can see from the image to the left (or above on mobile) the VaePlume Vaporizer looks exactly like a typical pen. The fact that you can write notes, and its weight is close to a pen with strong and functioning parts, the only thing that will give this device away is if someone actually took it apart, or if you blew a cloud full of vapor into someones face.
This discreet portable vaporizer combines a premium writing device made from aerospace-quality stainless steel that includes a smooth-rolling ballpoint superior penmen ship that is designed with a patent-pending cartridge. This vaporizer is ready for writing or vaping on demand.
VaePlume Vape Pen Review – Discreet Portable Vaporizer
This portable vaping device is not designed as a showboating device, it does not look like a vaporizer. In conversation about the device itself, it is an interesting topic of discussion, but at first glance, there is nothing out of the ordinary. This can be pinned to your chest pocket or left out in the open for others to see, and think nothing about it. If someone were to actually grab it and try to write something, they would be able to do so, unlike other pen look alike vapes.
The patent-pending vape system from VaePlume is designed to fit the standard 510 thread 0.5ml and 0.75ml cartridges. The components that make up the VaePlume Vape Pen are easy to maintain and keep clean. For those heavy writers that will be using this device a lot for both of its functions will be pleased to know that replacement pen tips and batteries are available to keep this device operational for years.
If you are interested in knowing more about the VaePlume Vaporizer Pen you can check to see if the official site is back up and running here. Thank you for taking the time to read our VaePlume Vape Pen Review. For more reviews on new and innovative devices feel free to continue browsing or subscribe to our free newsletter by leaving your email below.
Buy Cloud V for $​39 at Cloud Vapes